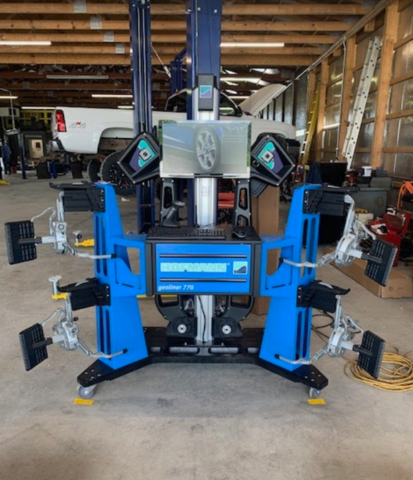 Choose from the best tires in the industry, from BFGoodrich to Michelin tires. Sir Thomas will sell ANY tire to you at our cost. When you purchase tires from Sir Thomas Automotive Repair, Inc you have the option to purchase a lifetime alignment warranty, in which we will perform an alignment every 6,000 miles for the life of the tires purchased.
Tire Sales, Installation, and Service
Mounting
New valve stem (tire sensor kits are extra)
Lifetime tire balancing
FREE rotation every 6,000 miles
FREE alignment check
Tire pressure checks
Flat tires and blowouts
Slow leaks
Under-inflated tires
Tire pressure monitoring systems
Sensor service kits
Road hazard warranty (see below details)
Our Road Hazard Warranty
Repair: Sir Thomas Automotive Repair will follow its Puncture Repair Procedures to determine if your tire should be repaired at no expense or replaced under this coverage. While the repair cost is free, there will be a charge for re-balancing a repaired tire.
Replacement: Road hazard warranty can save you the expense of tire replacement. If your Sir Thomas Automotive Repair Inc tire becomes unusable due to a road hazard-related mishap and cannot be repaired, we will replace the tire according to the following 2-year warranty schedule. Within in the first year, we will replace the tire for FREE. During the second year, we will replace the tire for HALF THE COST of the replacement tire. The customer will be responsible for the cost of installing the tire and new road hazard warranty on that tire.
Coverage extends to such damage as irreparable tread puncture damage from potholes, nails, glass, or jagged metal that cause cuts, snags, punctures, impact breaks, bruises, and rim cuts.
Length of Coverage: Coverage with Road Hazard Warranty extends for the 2 years from the date of purchase. This coverage is not transferable to a new owner or if the owner mounts the tires on another vehicle.
Understanding Your Tire
P = Passenger Tire (LT = Light Truck)
225 = Overall width of the tire in millimeters
70 = Sidewall height (distance from rim to tread) as a percentage of the tread width (known as aspect ratio)
R = Tire construction, this one is radial (also, B = belted bias, D = diagonal bias
15 = Represents the size of the wheel in inches. In this example, the tire has the number 89H. This is the weight capacity of the tire. However, in most cases, you will not see this heading on the sidewall.
A speed rating is sometimes put in front of the R (or B or D). A straight R rating means that it is rated for speeds of up to 100 mph. The manufacturer does not recommend this tire for speeds greater than 100 mph. Other speed ratings are: S = 112 mph, T = 118 mph, U = 124 mph, H = 130 mph, V = 149 mph, and a Z-rated tire is for speeds in excess of 149 mph.
The V- and Z-rated tires have excellent dry pavement grip/traction but, due to their soft rubber compounds, they do not have a long life.
A tread rating indicates how long a tire should last. This figure is written in small letters on the sidewall of your tire. The higher the number, the longer the tire should last. 100 is the basic tread wear rating.
The traction rating works just like grading - A being the best, B is good, and C is acceptable. This number is also found on the sidewall.
Temperature ratings work the same - A is best, B is good, C is acceptable. If you drive your car very hard, you want a temperature rating of A, because a C would fail faster under these conditions. Again, look for this letter on the sidewall.
24-Hour Towing Services
Are you stranded by the side of the road and in need of new tires? Call Sir Thomas Automotive Repair, Inc for our 24-hour towing service when you need it most.