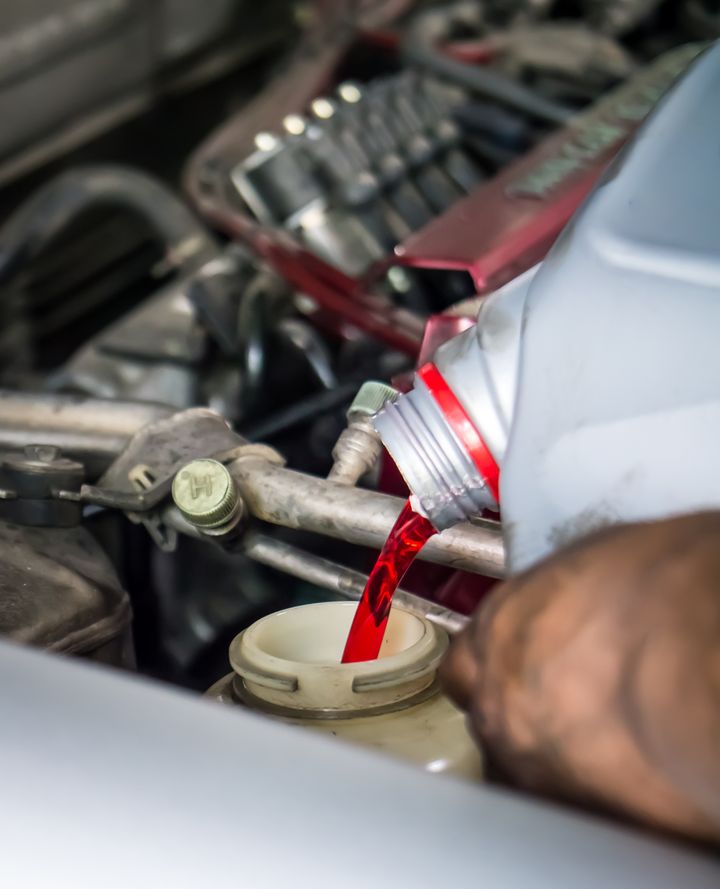 Some cars come with conventional automatic transmissions, dual-clutch automatics, or continuously variable automatic transmissions (CVTs) that each use a specific type of transmission fluid. While driving on the streets of Brazil, Indiana, Terre Haute, Indiana, Marshall, Indiana, Sullivan, Indiana, and beyond, it is almost guaranteed that you will see a vehicle that relies on a transmission to operate. Your vehicle owner's manual has the information of what type of transmission you have and the specifications of the transmission fluid that your vehicle needs. Our technicians at Sir Thomas Automotive Repair, Inc are knowledgeable with all things transmissions and will ensure your vehicle is safe to drive. We will ensure that your vehicle will fit all manufacturer recommendations, check your transmission fluid, see if there is any dirty fluid, and more. We at Sir Thomas Automotive Repair, Inc can inspect your transmission fluids in both automatic and manual transmissions. Let us know if you have any questions or concerns; we are happy to help you!
It is important to have the right levels of transmission fluid and to keep it free of debris. Components like the torque converter rely on your transmission fluid to convert power from the engine to the transmission. The transmission fluid acts as a lubricant for the bearing and other metal parts in the gearbox. This makes it much easier to shift gears as you put your vehicle in reverse, drive, neutral, and park. Depending on the type of transmission you have and manufacture specifications, there are different transmission fluids to choose from:
Automatic transmission fluid

Manual transmission fluid

Synthetic transmission fluid

Traditional transmission fluid
Signs your transmission fluid has issues:
Checking the fluid is an important part of regular maintenance. During your next service interval, it is a good idea to get your transmission fluid inspected. If you have 100,000 miles on your vehicle, it is time to replace your transmission fluid. Here are some of the signs that indicate you have low levels of transmission fluid and need to bring your car in for transmission fluid service:
Warning light on your dashboard.

Difficulty changing gears.

Transmission fluid leakage.

Dark brown color.

Unusual noises.

Unpleasant smell.

Transmission slipping problems.
A simple way to check your transmission fluid is to look at the transmission fluid dipstick. By doing this, you are checking the fluid for any debris or if it is low. Our technicians can quickly check the fluid level and ensure that your transmission is good to go. We are up to date with our knowledge on fluids like automatic transmission fluid, engine oil, and can easily check different parts like the oil dipstick and other moving parts.
Your Quality Shop for Transmission Fluid Service
Whether it's for your Acura, Audi, BMW, Buick, eventually you may need to get the transmission fluid replaced. If you are in or nearby Terre Haute, come to Sir Thomas Automotive Repair, Inc for your go-to shop to get your transmission fluid. Our technicians have decades of combined experience and will ensure that your vehicle is working properly again. Reasons You Should Do Business With Us:
Transparency
Honesty
Integrity
Expert Mechanics
Years of Experience
Don't hesitate to bring your car to Sir Thomas Automotive Repair, Inc in Terre Haute today! You can schedule an appointment with us online or give us a call at 812-234-6900. Sir Thomas Automotive Repair, Inc - Sir Thomas's Convenience Makes Servicing Your Vehicle Easy!.